Something worthy of your attention, and five reasons I love it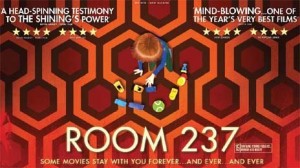 Here is the Netflix description of Room 237: "This fascinating documentary explores various theories about hidden meanings in Stanley Kubrick's classic film The Shining". While that description is technically accurate, it is only the tip of a very weird iceberg. This isn't a film about The Shining; it's a film about obsession and the power of the human mind to make connections.  This documentary shows that you can find evidence to support almost anything if you look hard enough, and the subjects of this film look at The Shining very hard indeed.
Room 237 is currently streaming on Netflix. Always a win for a cheapskate like me.
In Room 237, five interviewees present their theories on the hidden meaning of The Shining. These are not your average film geeks – interviewees include an ABC News correspondent, a playwright, a Holocaust expert, and more. Their theories range from the intriguing (The Shining is an analogy for the genocide of Native Americans) to the bizarre (The Shining is Kubrick's confession that he helped fake the moon landing footage).
The filmmakers behind Room 237 made the interesting choice to not show any of their interviewees. There are no talking heads in this documentary. Instead, the interviewees talk over film clips from The Shining and other movies. The end result is that the movie is solidly focused on the theories and the evidence rather than the interviewees themselves.
Okay, let's talk about the most interesting aspect of this movie: the theories. As unlikely as these theories are, it is fascinating to watch the interviewees explain them. We are taken through scenes frame-by-frame and told the hidden meanings of background objects and continuity errors. We are shown the beginning of The Shining superimposed over the ending The Shining and told what that juxtaposition reveals. It's weird, it's kind of crazy, but it also makes for an interesting documentary.
Learn more about Room 237 here.