Something worthy of your attention, and five reasons I love it.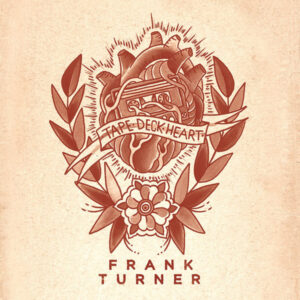 One of my favorite things about services like Pandora and Spotify is the way they introduce you to new artists with no preamble. How did Spotify choose to play me this particular song on this particular day? I have no idea. Apparently there is some tangential, algorithm-based relationship to The Hold Steady, but other than that I just listen to the music they play me and I either like it or I don't. I don't know anything about the personality of the artist or whether they have a hipster or teenybopper fan base. It's a pure listening experience – me and the music. This was the way I was introduced to Frank Turner.
 Tape Deck Heart is a personal album. In that weird alchemy of art, the more specific and heartfelt the lyrics, the more deeply it connects. Though I don't have tattoos, and I don't especially want to dance, and I have never dated a girl named Amy, I can somehow still relate.
This:

I did a bit of reading about Frank after hearing the album. I was not surprised to learn that he comes from a hardcore punk background. While his new stuff walks the line between singer/songwriter and straight-forward rock, he still has that punk rock chip on his shoulder. He sings like an underdog who intends to go out swinging.
Like many of my favorite bands – Neil Young, The Replacements, The Hold Steady – Frank Turner's music is built on a solid foundation of passion, song-craft, bad attitude, and pop sensibility. A lovely combination if you ask me.  Everything here serves the song, and Tape Deck Heart is a collection of consistently wonderful songs.
Check out Frank Turner here.